BLACK SALE

Bis / until 03.12.2023
Bushbox XL Combination Kit
€91.38 *
15
€107.50 *
(15% Saved)
Prices incl. VAT plus shipping costs
Ready to ship today,
Delivery times might vary depending on the destination country
Product overview
Highly efficient folding stove
Perfect for longer outdoor trips
Suitable for cooking for 3-4 people
The set includes: Bushbox XL, Trivets (Set), Universal Grate, Heavy Duty Outdoor Bag
Total weight: approx. 920 g
Dimensions: approx. 21.5 x 17.5 x 2 cm
With this set, you'll be ready for any adventure. It includes all you need for your next trip...
more
Product information "Bushbox XL Combination Kit"
With this set, you'll be ready for any adventure. It includes all you need for your next trip into nature: a highly efficient stove, our variable Trivets, the matching Universal Grate and our durable Heavy Duty Outdoor Bag that keeps all your gear neat and tidy. On top of that, the set is cheaper than if you buy everything separately.
The "Bushbox XL Combination Kit" in detail
Bushbox XL
The Bushbox XL is our largest stove and perfect for longer outdoor trips, camping, trekking tours, bushcraft adventures, for bikers, expeditions and much more.
With this extraordinarily efficient, portable folding stove, you can easily boil water for several people, prepare food, grill meat and much more, using only little fuel.
Featuring our unique hinge technology that ensures the hinges never stick, the Bushbox XL is easy to set up and fold, even with gloves or clammy hands.
With the Bushbox XL you are completely independent, as it can be used in many different ways and is suitable for natural solid fuels (twigs, branches, leaves, charcoal, animal dung) as well as for spirit burners (e.g. Trangia), Esbit tablets, gel burners, etc.
With its small pack size (only approx. 1 cm thick when folded), the ingenious hobo stove can be stowed anywhere.
The Bushbox XL is well thought-out down to the smallest detail and offers you many possibilities for individual use. Read more here.
To use as little plastic as possible, your Bushbox XL comes in a lightweight cotton bag. For regular use, we recommend our Heavy Duty Outdoor Bag Bushbox XL or the matching Leather Pouch Bushbox XL.
Technical data
Weight: 765 g
Dimensions: 19 x 12.5 x 1 cm (folded), 19 x 12.5 x 12.5 cm (unfolded)
Material: 100 % stainless steel (1 mm, 1.4301)
Made in Germany
How our stoves work:
All our Bushboxes follow the stack effect (or chimney principle): The air flows into the stove from below, causes even damp material to burn and produces strong heat which – thanks to the clever design of the stove - is directed straight upwards and hardly radiates to the sides. Compared to a campfire, the Bushbox allows for a clean, compact and safe way of cooking, fully in line with the "Leave no Trace" principle.
Trivets (Set) Bushbox XL
The Trivets are attached to the back of your Bushbox XL. This way, they are always safely stowed away and won't get lost on the way.
On top of the Bushbox XL they ensure safe standing even for smaller cups and cooking vessels.
Various notches allow for the Trivets to be inserted in different positions as required and ensure sufficient air supply between flame and cookware.
Thanks to the Trivets, you can place an external heat source (e.g. Trangia) at any height in the Bushbox XL.
Alternatively, the Trivets can be used to handle the hot Bushbox. In combination with the Universal Grate included in the set, they can also be used as a toast holder or to keep your coffee cup warm. Just use your creativity.
Technical data
Weight: 64 g (Set)
Dimensions: 18 x 1.5 cm
Material: 100 % stainless steel
Made in Germany
Universal Grate Bushbox XL
The Universal Grate can be used in many ways:
Attached on top of the Bushbox XL it makes an excellent grill or provides a solid platform for smaller pots and cups.
Inserted into a special half-height position, it can be used as a stand for alcohol burners (like the Trangia).
In this half-height position, it is also ideal for the use with charcoal or wood pellets (lower fuel consumption with more effective and constant cooking or grilling temperature over a long period of time; one cup of pellets is enough for approx. 30 minutes of operating time).
Technical data
Weight: 77 g
Dimensions: 12.5 x 11.5 cm
Material: 100 % stainless steel
Made in Germany
Heavy Duty Outdoor Bag Bushbox XL
Made of durable canvas fabric, this Heavy Duty Outdoor Bag can take a beating! It has two loops on the back and a sturdy D-ring for attaching to a belt, waistband, or the outside of a backpack. Thanks to the two inner compartments, Bushbox XL and Universal Grate can be stored separately within the bag. With practical Velcro fastener.
Technical data
Weight: 81 g
Dimensions: 21.5 x 17.5 cm
Material: Canvas, 100 % cotton
OTHER PRODUCTS SHOWN ARE INTENDED FOR ILLUSTRATIVE PURPOSES ONLY AND ARE NOT PART OF THE OFFER.
Not sure which stove is right for you? Then take a look at our stove selection matrix: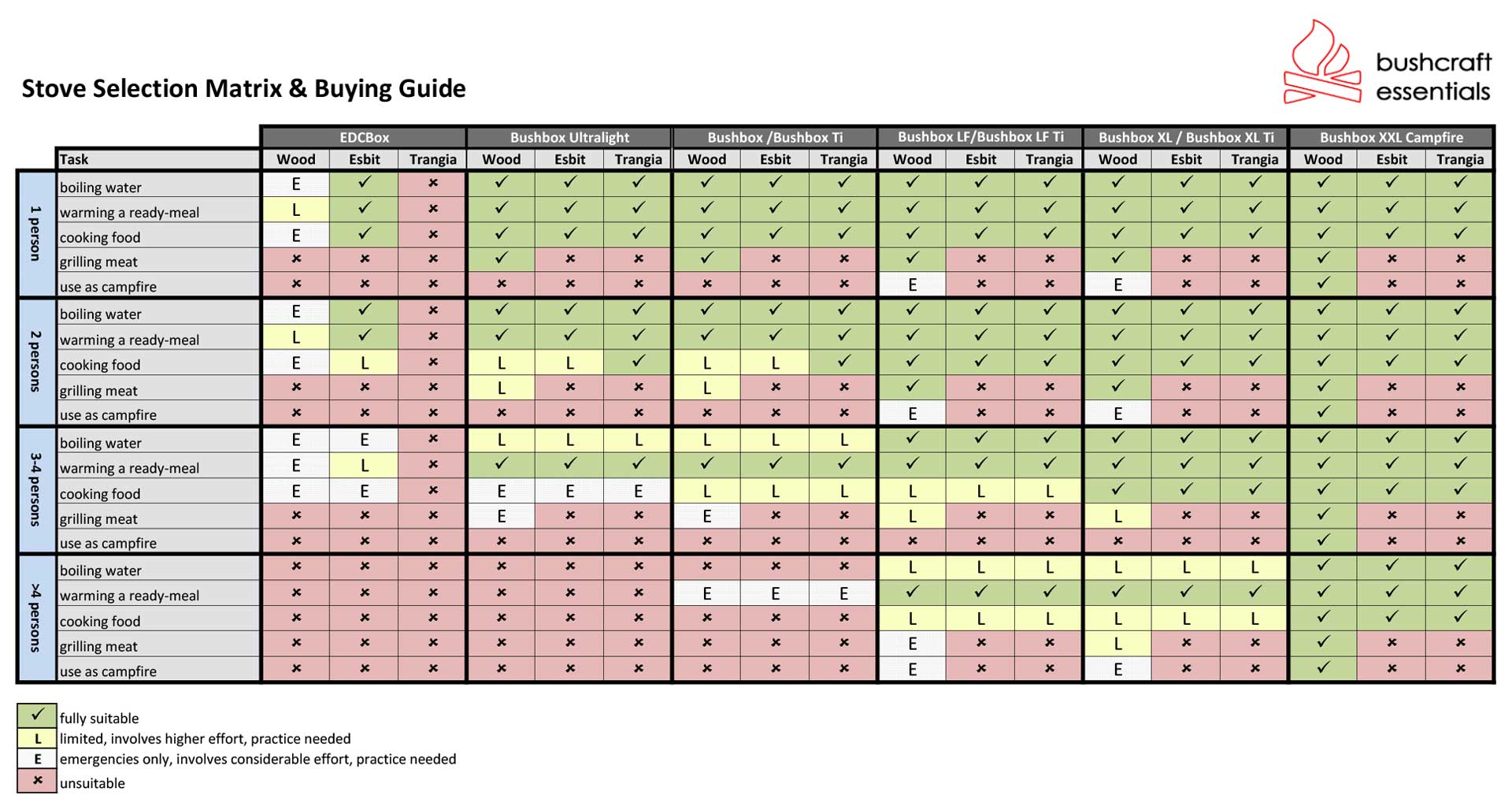 Bushbox XL Tips & Tricks:
Related links to "Bushbox XL Combination Kit"
Read, write and discuss reviews...
more
Customer review for "Bushbox XL Combination Kit"
From:
Truls
On:
17 Feb 2023
Outstanding!
Fantastic stove! Well made, easy to handle, just the right size and great performance. In addition, the possibility of several choices of fuel. Works just as well with wood as with alcohol burners.
One thing to keep in mind is that it gets very hot with the alcohol burner. So when using the "Universal Grate" it resulted for me in it bending a bit when it got red hot. No problem bending it back to its original shape though. But this applies to all metal when it gets that hot, so you have to take that into account.
From:
TUDOR
On:
20 Aug 2019
BUSHBOX XL - EXCELLENT PRODUCT
I've purchased the Bushbox XL Combination Kit and I'm very happy with the decision.
The product is of superb quality, it's extremely well built and the design is great. Highly recommended for anyone who goes out in nature for hikes that aren't to long.
I have had some questions and the guys from Bushcraft Essentials (they are super friendly) responded in a very short notice. The product arrived in 1 week via postal services. I also got a tracking number and all the paperwork.
In conclusion I think it's probably the best hobo stove on the market, the services are great and the quality is superb.
From:
Vicente G.G.
On:
19 Nov 2018
A must have
What a fantastic product, easy to pack and carry, excellent built and performance.
From:
Some Dude
On:
6 Nov 2018
Excellent product
Great stove. I love everything about it. Hands down, the coolest piece of camping equipment I have. No matter if I'm going on a quick day trip or a week long adventure, it's in my pack.

I do wish that a solid grill plate (no holes) was available for purchase. It would be ideal for frying small birds eggs, if I did find myself in a survival situation. This would make the bushbox xl the ultimate survival/hobo stove.

[Comment by Bushcraft Essentials: The solid plate is on our list!]
From:
Paul Bisseker Bushcraft
On:
2 Nov 2018
Bushbox XL - Amazing Design
The design and build of the Bushbox XL is outstanding! This stove is the best designed hobo stoves i have ever used. It's simple setup and dismantling is far easier than any other hobo stove i have seen. I love the fact that it's hinges are all part of the panels and you know it's not going to fall to bits in a month or two, i see this stove being a life long companion.
Thanks Detlev for designing such a great product :)
From:
Nursejim
On:
13 Jun 2018
Cool stuff
Great product and fab service
Great product
Great product. I just completed a four night 50 mile kayaking trip and used it to boil water and grill steaks. I grilled fillet mignon due to the small size to fit the small grill. It's easy to use and I am very satisfied with it. The other guys on the trip plan to purchase one also because they can't grill anything with their Jet Boil systems. I highly recommend it.
From:
Addie.
On:
17 Apr 2018
I absolutely advise everyone to purchase this excellent product .
The xl stove is excellent . But I have Just reallised the trivets were left out from my order . Can I possibly still claim them ?
[Comment by Bushcraft Essentials: The trivets are mounted on the back of the Bushbox XL. In case you cannot find them please contact us by email]
From:
Kent Pärlefalk
On:
24 Jan 2018
Excelent. next time i am ordering the ligther Bushbox XL Combination Kit
5+
5+
5+
From:
Jimmy the fish
On:
14 Nov 2017
Top bit of kit
Superb item would highly recommend to any camper/hiker etc. Excellent service very Happy
From:
Anthony
On:
2 Nov 2017
Great product all round that comes at a very reasonable price
i have been using the Bushbox XL combination kit and I must say one cannot fault it in any way the way it is built it is such a convenient tool for me when I am outdoors and would highly recommend it so much for so little money
From:
Chris
On:
23 Oct 2017
Very happy
Very happy with the Bushbox XL, Obviously well made and great design Used on a recent camping trip for cooking and as a campfire after dark . Will buy second pair of trivets to allow use of Trangia stove
From:
Paul
On:
2 Jun 2017
Excellent
High quality, great design and prompt delivery.
From:
Leo
On:
31 May 2017
5 stars quality
Although it is a bit heavy, the quality is very good.
From:
Gorm Kristian
On:
18 Apr 2017
Perfect stove for 2-4 persons (Family-stove)
I love this stove! A bit too big for personal use in my opinion, but perfect for a group of 2-4 people.
The quality of the Bushbox XL is outstanding. I highly recommend it.
From:
Damo
On:
13 Apr 2017
Fantastic product and well thought out
I have played with the Bushbox XL a few times in the backyard since receiving it as a test. So far I'm really impressed. Great addition to my cooking arsenal and also fantastic to sit around and enjoy as a secure camp fire.
From:
Tyst Död
On:
5 Mar 2017
Worth it!
I love this stove. It works great with pellets, charcoal briskets, wood, trangia, and gel burner. I ran more then 20 lbs of fuel pellets my first burn. I had some warping but nothing that affects the stoves integrity or its folding. I like the weight because it stays put better and the stainless imo distributes heat better. I've used it for my personal heater and its size make for less tending. It will obviously take longer to cool down but the tradeoff is worth it.
I can shove this in my ribz pack and forget I'm carrying it.
For cleaning I wipe it down with a rag and spray it with food grade machine oil and lightly wipe it again. You can also use cooking oil with a rag or pam cooking spray.
So far I've baked muffins, cooked eggs, pancakes, trash omelets, steak and marshmallows for the kid.
I'd also like to say customer service is excellent and the shipping to the states was super quick.
Thanks for your help Ana!

From:
Marcus
On:
4 Dec 2016
Buy, Buy, Buy IT!
Hi, This stove ticks all the boxes if your not sure, take it from me Buy it!!
The only other stove, I would consider above this is XL is the titanuim XL, but the price is out league.. Dam Brexit lol
From:
Alistair
On:
8 Nov 2016
well worth the weight!
Seen a lot of reviews on the net, but having one to use first hand was really great. Used it a lot already. Its weight seems an issue to some, but the sturdiness and reliability that comes with it is well worth it. Living in a National Park (Vercors) with certain fire restrictions, the ability it gives to contain a small fire is something i appreciate.
From:
MrSea
On:
27 Oct 2016
Apart from the weight the XL is an excellent product that would benefit from a second set of trivets as standard.
This is a very good product with great design and it really is versatile. I have warped the sides a little on occasion but it is easiy enough to reshape by hand pressure alone. I got the combination version with big xl grate and use it with a variety of fuel from trangia to charcoal but do find myself wishing i had a second set of trivets so it can be moved and still support a small 500ml pot. This is a very reliable, simple and efficient stove. The relatively high weight meant i also bought a ti bushbox to carry but it is a fair bit less stable and more fiddly in use and the lack of ideal trangia height support is also annoying.
From:
camper123
On:
8 Sep 2016
Highly recommended for camping, trekking and zombie-day apocalypse :)
Very sturdy. A bit heavy but rock-solid. If you don't overheat it will be in a splendid condition for your grandchildren to use.
From:
Na_na
On:
27 Jul 2016
5 star
Everyting PERFECT !
From:
Möölp
On:
27 Jul 2016
Good stuff
Very nice product, easy to use and does what it is described to do. I did notice some small warping after use but i guess it is to be expected, (Note It was not a roaring boonfire i had going) It does not affect the product in the slightest but worth to note.
From:
nazza
On:
18 Jul 2016
remarkable engineering!
remarkable design, i like its simplicity and ease of use. pretty hefty though but its a good sign, sturdy. although its made in germany but if you guys could reduce the price tags, that would be great! overall, its a winner, it will serve me for many, many years. two thumbs up!!
From:
JMS53
On:
20 Jun 2016
Good bush box but expect issues
Very nice for the first couple fires, but the ash-tray started falling off its slots when picking it up. After starting 1 fire and leaving them on, the rivets would not come off the back plate. Disappointed given the high cost of the box.
[Comment by Bushcraft Essentials: Your XL must have been overheated for a while – maybe you had a large and hot fire going in it? In such cases the temperature difference between the then very hot upper part and the comparatively cold lower part leads to warping (a physical effect caused by unequal thermal expansion). When overheated, the warping is much more obvious and the metal does not assume its original shape afterwards and may bend to an extent where the ash tray does not lock any longer into its holding positions.

There is however a very simple cure for that: The steel we are using is very stable and sturdy, but at the same time also comparatively soft, so it can be bent back without risk. If you have overheated your box and the "legs" have warped too much, you can carefully bend them back. The best way for this is to use flat pliers, grip the full leg and bend it back carefully and gently.

One of the great advantages of the Bushbox XL is that you can cook with a minimum of fuel (i.e. wood). We recommend using fewer but larger (thicker) pieces of wood after the fire has been started. If you operate the Bushbox in this way, you will experience no or almost no warping (and it will certainly not be permanent).]
From:
Nolwennsarah
On:
1 Jun 2016
The workhorse of hobo stoves, still fairly portable and a no brainer
I'll make a small version and a long version so if you can't stand reading all my review then just remember this:
_solid
_super easy to light (took me less than a minute EVERY single time, no fail)
_super easy to install and put back in its sleeve
_you can cook complete meal and disinfect 1 liter of water in less than 10 minutes

Now for the longer description...

The set contains:
_the Bushbox XL
_an additional grill plate
_2 trivets
_one sturdy non nylon sleeve where you can easily pack an additionnal lighter and fire starter

I think this thing rocks when it comes to hiking or camping or as a piece of survival equipment. To put it simply, this is a Hobo stove but with a serioux improvement.

Besides being bigger than most hobo stoves I have seen or used, it weighs only about 900 grams and takes very little space. Most also need to be reconstructed but not this one. You open it and everything falls in its right place. You can't make it easier. Overall ,the design has been very well thought. Everything fits perfectly AND has been designed to be practical (managed with a knife or tent pegs so you never burn your hands, versatile so you can use various sources of fuel from solid alcohol to normal wood and it is big enough to fit large pieces without having to remove your pot or cup).

It is easy to light a fire even with a lot of wind because it is protected enough and oxygen fuels it well. Safety should not be a concern because your fire is about 2 cm from the ground and you have the ash collector that prevents the hot ashes to light an accidental fire. So ideal for the wood. Still, ashes tend to fall on both sides so think about cleaning your ground as you would with a regular fire.

With the grate or the trivets you can easily use any portable pan or cup or correct a slope.

You need a lot less biomass than you would with an open fire. It also produces a lot less smoke so that you are both more comfortable and more discreet.

It is very stable even as you use a big pan. So much so that I wouldn't mind letting my son use it under supervision (because it does produce a heavy flame sometimes).

I never failed starting a fire with this, it never took more than a minute and was easy to feed (though you can't leave it unattended). I love the fact that it is so easy to set up and put back in its protection sleeve. I also love the fact that it is so transportable (though adding nearly a kilogram in your backpack might make you cringe, it compensates a lot when you cook in a matter of minutes with greater security).

Frankly, it is well worth the investment and you can't go wrong, great quality!

Here is a link to the review I made on Amazon with a video of the stove in use: https://www.amazon.com/gp/review/R19KV0O7EWN4I9?ref_=glimp_1rv_cl
From:
Kim CapeCod USA
On:
16 May 2016
a 10!! A plus!!!
I absolutely love it. Wonderful bit of kit for sure. Everyone should own one! thank you. I have the xl combo- first rate quality gear. Im in a wheelchair and live alone. I enjoy going out at night and having a drink at the fire and listening to the peepers that surround me.
From:
WeFlyFish
On:
28 Mar 2016
Great Product!
Have used this in the field while fishing 7 times ... my goto stove!
From:
WeFlyFish
On:
21 Mar 2016
Great customer service!
Great customer service! my box was sent to someone else and one phone call is all it took to get another one sent! I already used the box and its a great product!
From:
Loos Alarm
On:
18 Mar 2016
Yes!
I watched several YouTube reviews before purchasing the XL. I already own the original (smaller) bushbox, but found it a bit fiddly to assemble and deassemble it every time. Mainly because I had to wear gloves to prevent my fingers to become dirty/black. In damp conditions it's also harder to keep a fire going in a smaller one; you really have keep an eye on your fire at all times.

The XL doesn't have these problems, because it consists out of one piece and is easily collapsable. Because of it's measurements the XL produces a considerable amount more warmth than the smaller one. The oxygen supply from the bottom is so efficiënt, that you can hear the highspeed burningproces. It also alowes you to use bigger sticks for burning, wich makes it a little less nessecary to 'babysit' your fire.

The only drawback is the weight. I think it's too heavy. The titanium version is (compared to difference in weight with the rvs) too expensive in my opinion. If the weight difference would be more substancial, (or the price lower) I would consider to buy it. That said; I think the XL rvs is very good value for your money and a good piece of gear to own in a region where there's almost no legal places to make a fire. I think it helps preventing forestfires because the fire is contained, and at the same time it gives you the oppurtunity to enjoy watching and using a fire. The efficiënt burningproces means you need less firewood, wich is also a good thing.

May your days (and nights) be bright and your bellys full!
From:
militia Dan
On:
1 Mar 2016
GERMAN QUALITY
GERMAN QUALITY, what else is there to say.
From:
Bushman
On:
28 Dec 2015
Best stove ever
Awesome stove very easy to you use and very portable
From:
John
On:
22 Dec 2015
Excellent stove
Sturdy construction, easy to use and compact when packed.All you need in a stove.
would buy another.
only have had a chance to use in back yard, wanted backyard use before using in field. Works great!
From:
space1001
On:
1 Dec 2015
fantastic bit of kit
will be buying more things from this great company. the bush box is a first class bit of kit. words can't say how good it is at what it does. i will be buying the titanium version next for the very light backpacking
From:
Davy
On:
9 Nov 2015
Enjoy using this stove. perfect for my weekend camping.
Easy to assemble. Packs down flat
From:
Dai
On:
24 Oct 2015
Great cooking stove
Review time i have used this stove a few times now so feel that it's time for the review
I purchased the combination kit the bag is top quality cordura and the small grill plate is a really good addition, using the grill plate in the base of the stove allows you to use a stove full of wood pellet cat litter giving enough time to make a curry, this is great for car camping if you decide to carry some cat litter with you.
Or you can use the grill plate at the halfway position again with the car litter to boil the kettle and cook breakfast
If you decide to use wood you can use the same grill plate as a grill ok it's not really big enough but it does work for a burger or a couple of sausages it's fine, the plate will warp but i actually found this helpful as your sausages don't roll of but stay in place I have since added the larger grill plate and the extra trivet's the larger grill plate I just coated with cooking oil and put it on the grill to season this also warped but no problem just straighten it up and all is good
Now to the stove there's not a lot I can say that hasn't already been said one thing that i would like to say is that it's a great stove for cooking on it takes enough fuel in one fill to actually cook on without having to worry about adding more fuel have a few extra sticks nearby and you can concentrate on the cooking
The stove burns with what i would call a cooking flame
OK a woodgas stove will boil water quicker but they are almost impossible to cook with this is the stove you want if you plan on cooking anything if you're happy with noodles and the like something else may do you better
If you want a stove to cook on and use as a campfire buy this it honestly is a great bit of kit
Hope this helps Dai
From:
tom.
On:
21 Oct 2015
Quality made in Germany.
Very glad that i got this as i will never ever be without a means of fire and the ability to cook on a solid surface.
From:
Motors
On:
15 Oct 2015
5 stars
Excellent piece of kit. Folds away to almost nothing into it's quality bag. Really directs the heat to where I want it. Super service from this company. Would recommend to all.
From:
Island bushcraft.
On:
2 Oct 2015
Top class engineering. Definitely part of my EDC in the woods.
Awesome bit of kit. Arrived swiftly, perfect condition, top quality. Would highly recommend.
From:
keewee
On:
17 Aug 2015
very happy
Love it. Excellent quality and design. Get one you wont be dissapointed.
From:
Mike
On:
5 Aug 2015
Great product that will not disappoint.
Great product bar none. Amazing customer support and communication. My only concern is that the grill plate warps easy, however, it also straightens out easy so its not a big deal.
From:
Phil C
On:
13 Jul 2015
Superb camp stove
Best camp stove on the market by far. Used recently on a 2 night trip performed well. A must have item.
From:
Smileriraq
On:
15 Jun 2015
Very good
Did what I wanted and then some, planned to use it just for camping but will deffo take it on exercise in the field with me. As some others have said painting it black would help improve aesthetic look after a few uses but that doesnt really bother me much.
From:
jleyd
On:
31 May 2015
Bushbox xl, great piece of kit
Absolutely love this, great way to have a fire to keep warm, boil water or russel up a bit of grub while out and about, a solidly built piece of kit, I take it everywhere with me it's my must have bit of kit. You won't regret buying the busybody xl and bushcraft essentials a great to deal with, customer service is friendly, answered all of my questions and delivery was prompted, I'll definitely do business with them again
From:
Kooples
On:
25 May 2015
Overall great product but with potential to improve
Overall great product:
Pro: very fuel efficient
relatively light weight
high quality steel
stable with heavy cast iron frying pan
goes well with charcoal

Con: very difficult to clean inside wall as everything is integrated, maybe possible to make this dissemble?
the XL grill plate buckled slightly after burning, and cant fit to the top of the stove
From:
Sabrina
On:
20 Apr 2015
absolutely perfect
Perfect.....what else. This product is brilliant and it was a very fast delivery. The bushbox is the best idea ever.
From:
Peter
On:
10 Apr 2015
Awesome
I love this thing - i got only one sugestion - maybe there can be some paint (black?) so it looks nice even after using :)
From:
PercyH
On:
28 Mar 2015
Nothing less than excellent
This item is probably the best you can buy. Well made and totally practical for all outdoor adventures!
From:
Neverstop
On:
28 Feb 2015
Excellent product
Love this thing. delivered exacataly as expected. Not only is it fun to use it simplified things for me and my personal use. can't wait to use it on a canoe outing. not my first choice foe backpacking but for all the other ventures it is great!
From:
MIGHTY VIKING
On:
5 Feb 2015
BEST STOVE
Very impressed with the quality of this product. Very well made and top of the line design and engineering; just as expected from Germany.
From:
Muskrat Jim
On:
19 Jan 2015
Video Review
I received this as a prize in a friend's contest. I used it for the first time in this video http://youtu.be/MwcoIiskO5Y
100% satisfied with the product!
From:
The Bearded Clam
On:
21 Oct 2014
The best money can buy.
Why buy the Bushbox XL? Quite simply it's the best within its field. An incredible design makes this product hard to beat. Simple to use, highly efficient, with a delivery and customer service hard to beat. It's no surprise the XL has become the Number 1 stove amongst the Bushcraft community. A must have for any Bushcrafter or camper. Outstanding!!
From:
magicwellies
On:
5 Jul 2014
Great roduct
Very happy and impressed with the Bushbox xl....Great company, the shipping was fast and trouble free..Thnx Detlev and co
From:
MrSkooty1968
On:
14 Jun 2014
Excellent products
Excellent products from a great company,many thanks Detlev
From:
Bushtramp (Doug)
On:
4 Jun 2014
Love it
Already having the regular Bushbox for backpacking I wanted something alittle bigger for canoe trips,fishing and to play around home with.I have nothing but good to say about this Bushbox.i have used this almost daily since I got and with the neat tight way it folds up I hardly know I have it even with the extra weight.i can see this replacing a campfire on solo trips as it will take good sized pieces of wood and has fantastic airflow that keeps the fire burning .to quote an Englishman I saw on youtube this is a "crackin bit of kit" :)
From:
barkingbadger1
On:
26 May 2014
excellent piece of kit well impressed
First rate service from Detlev in Germany. Good communication first rate delivery service would recommend this stove to any of my friends
From:
melaimpazzita
On:
21 May 2014
excellent
Product subject to prior sale, excellent service. Still have not tried it on the field, but at home. I am convinced that will not betray me.
Write an evaluation
Reviews will be activated after verification.