BLACK SALE

Bis / until 03.12.2023
€142.72 *
15
€167.90 *
(15% Saved)
Prices incl. VAT plus shipping costs
Ready to ship today,
Delivery times might vary depending on the destination country
Product overview
Highly efficient folding stove made of extra-light titanium
Perfect for longer outdoor trips
Suitable for cooking for 3-4 people
The set includes: Bushbox XL Titanium, Trivets (Set), Heavy Duty Outdoor Bag
Total weight: approx. 575 g
Dimensions: approx. 21.5 x 17.5 x 2 cm
If you value lightweight gear when you're out and about, you'll love the Bushbox XL Titanium!...
more
Product information "Bushbox XL Titanium"
If you value lightweight gear when you're out and about, you'll love the Bushbox XL Titanium! The stove is made of extra-light titanium and comes in a set with variable Trivets as well as a durable Heavy Duty Outdoor Bag that keeps all your gear neat and tidy.
The "Bushbox XL Titanium" in detail
Bushbox XL Titanium
The Bushbox XL Titanium is our largest stove and perfect for longer outdoor trips, camping, trekking tours, bushcraft adventures, for bikers, expeditions and much more.
With this extraordinarily efficient, portable folding stove, you can easily boil water for several people, prepare food, grill meat and much more, using only little fuel.
Featuring our unique hinge technology that ensures the hinges never stick, the Bushbox XL Titanium is easy to set up and fold, even with gloves or clammy hands.
With the Bushbox XL Titanium you are completely independent, as it can be used in many different ways and is suitable for natural solid fuels (twigs, branches, leaves, charcoal, animal dung) as well as for spirit burners (e.g. Trangia), Esbit tablets, gel cookers, etc.
With its small pack size (only approx. 1 cm thick when folded), the ingenious hobo stove can be stowed anywhere.
The Bushbox XL Titanium is well thought-out down to the smallest detail and offers you many possibilities for individual use. Read more here.

Note:

All parts with high thermal stress (bottom plate, Trivets) are made from stainless steel.
Technical data
Weight: 430 g
Dimensions: 19 x 12.5 x 1 cm (folded), 19 x 12.5 x 12.5 cm (unfolded)
Material: Pure titanium (1 mm)
Made in Germany
How our stoves work:
All our Bushboxes follow the stack effect (or chimney principle): The air flows into the stove from below, causes even damp material to burn and produces strong heat which – thanks to the clever design of the stove - is directed straight upwards and hardly radiates to the sides. Compared to a campfire, the Bushbox allows for a clean, compact and safe way of cooking, fully in line with the "Leave no Trace" principle.
Trivets (Set) Bushbox XL
The included stainless steel Trivets are attached to the back of your Bushbox XL. This way, they are always safely stowed away and won't get lost on the way.
On top of the Bushbox XL Titanium they ensure safe standing even for smaller cups and cooking vessels.
Various notches allow for the Trivets to be inserted in different positions as required and ensure sufficient air supply between flame and cookware.
Thanks to the Trivets, you can place an external heat source (e.g. Trangia) at any height in the Bushbox XL.
Alternatively, the Trivets can be used to handle the hot Bushbox. In combination with the separately available Universal Grate, they can also be used as a toast holder or to keep your coffee cup warm. Maybe you can think of other ways to use it?
Technical data
Weight: 64 g (Set)
Dimensions: 18 x 1.5 cm
Material: 100 % stainless steel
Made in Germany
Heavy Duty Outdoor Bag Bushbox XL
Made of durable canvas fabric, this Heavy Duty Outdoor Bag can take a beating! It has two loops on the back and a sturdy D-ring for attaching to a belt, waistband, or the outside of a backpack. Thanks to the two inner compartments, stove and accessories can be stored separately within the bag. With practical Velcro fastener.
Technical data
Weight: 81 g
Dimensions: 21.5 x 17.5 cm
Material: Canvas, 100 % cotton
OTHER PRODUCTS SHOWN ARE INTENDED FOR ILLUSTRATIVE PURPOSES ONLY AND ARE NOT PART OF THE OFFER.
Not sure which stove is right for you? Then take a look at our stove selection matrix: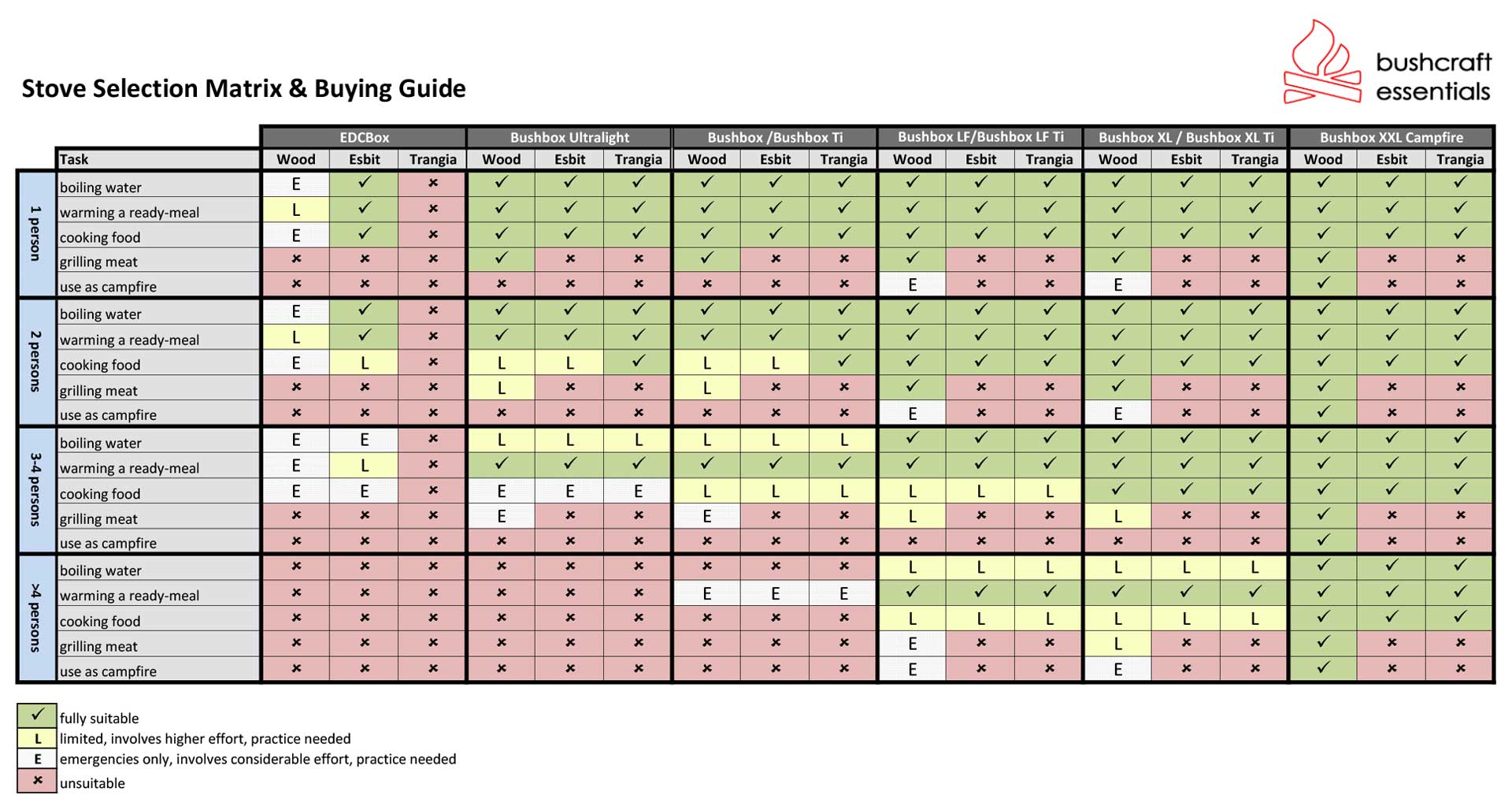 Bushbox XL Titanium Tips & Tricks:
Related links to "Bushbox XL Titanium"
Read, write and discuss reviews...
more
Customer review for "Bushbox XL Titanium"
From:
ANTONIO GP
On:
2 Dec 2021
Awesome Product - Producto Impresionante
Awesome product

I am shocked about the thinness and lightness. Excellent quality and manufacturing, it's a robust and resistant stove.

I am specially glad about always buying European products instead of non-eu ones.

________________________________________

Producto impresionante

Estoy impactado por la delgadez y la ligereza. Excelente calidad y fabricación, es una estufa robusta y resistente.

Estoy especialmente contento de comprar siempre productos europeos en lugar de productos de fuera de la UE.

From:
Var Redo on YouTube
On:
29 Mar 2021
Very nice wood stove, I'm happy with it
This stove has exactly the right size for my needs. It's big enough for cooking and light enough to bring on a woodland hike.
From:
Bushcraft Enthusiast
On:
24 Dec 2020
Superb! Works very well and I really enjoy using it! Flexible for wood and trangia.
I love the "Bushbox XL Titanium". I take it on every camping / bushcraft trip, and sometimes on an afternoon walk. The Bushbox is well designed, well made, opens up easily and is very stable.
The Bushbox stove provides me with the flexibility to cook using either wood, or my Trangia when speed or convenience is wished. Naturally, starting the stove using wood takes longer, but means that I don't need to use my emergency denatured alcohol.
When using the Bushbox, I have not heavily loaded the Bushbox with wood, using it only for cooking. The Bushbox has been robust and reliable in this configuration.
Cooking using the Trangia in the Bushbox is very convenient and fast. Until recently, I turned the stove upside down and placed it over the Trangia as a wind shelter. Another way is to place the stove the right way up and place the Trangia between the trivets. In my case, my pots fit nicely directly in the stove (11.5cm diameter), so heat transfer is very effective.
Putting the trivets into the Bushbox slots for cooking and also storing the trivets on the Bushbox side can be a little fiddly, but this is a very minor thing.
I bought two extra trivets which are useful for easily lifting and moving the stove when it is hot. I also use these under the pot, while the original two trivets hold the Trangia. The extra trivets are stored alongside the original two trivets.
The cordura pouch easily holds the Bushbox, trivets, and grill plate.

From:
Lemut
On:
11 Jun 2020
BEAUTIFULLY ENGINEERED AND WORKS!
Titanium XL version - great build quality and design. The exactness of the engineering, the hinges, the edges (I've need to file other makes) and the way it fits together is very impressive. OK its expensive but it is worth it. Firing up is quick and painless, and there is enough room for a good supply of fuel, so you are not feeding it all the time. When you do need to feed the fire, the large window provides very convenient access. I purchased the leather pouch and the titanium multifunctional case and with the stove they all fit together for storage very well. The titanium multifunctional case converts into great stand for the stove when in use and does a lot to prevent scorching under the stove. Yup, the large grill plate does distort when heated but that is to be expected given the flat nature of the item. I did not find the distortion to be a major issue and will continue to use the plate. Hopefully, I never lose my stove but if I do, I will buy another without a second thought from Bushcraft Essentials. It is a great company to trade with and the Team there are very supportive. Thank you guys.
From:
Moneybags
On:
22 Nov 2018
Very nice product, shame about the price.
While this is a quality product, well made and designed, it is far too expensive. I personally wouldn't think it was inexpensive at 1/3 of the current price. I am lucky enough to be able to afford the cost, I think the average earner couldn't.
[Comment by Bushcraft Essentials: This product is hand made in Germany from pure Titanium (a very expensive material, not an alloy like many other "Titanium" products). In addition, we provide lifelong guarantee and support, our production is environmentally and socially acceptable. If quality, support, environment and work conditions don't matter for you, you may cedrtainly find cheaper stuff in China.]
From:
Daniel
On:
7 Nov 2018
je recommande ces produits.
Excellent réchaud, très fonctionnel et pratique avec ça grande grille.
La sacoche de transport est de bonne qualité.
Très bon produit.

From:
rick cheung
On:
7 Nov 2018
excellent wood stove ,not as light as i thought , a bit pricey . glad that i bought it .
it came today as a registered post and i put it to test cooking a piece of steak for lunch . easy to use as the big hole makes feeding with wood so convenient . the size of the stove is just right as i don't need to maintain the fire so often as with smaller stoves . the stove is constructed well and packs easy after use .
From:
Mac40
On:
25 Oct 2018
Very practical and good design
This a awesome product who is very well design . If you want something efficient and easy to carry , this the one.
a bit expensive for the titanium model but it s worth it. I love it
From:
Pål
On:
19 Oct 2018
Great service
Great product
From:
Hege, Norway
On:
15 Oct 2018
Excellent product!
Jeg har Bushbox XL i rustfritt stål fra før, og ønsket en lettere versjon. Veldig fornøyd!
From:
Nico Chartreuse Nature
On:
3 Jun 2018
So efficient !
I get this big yet foldable stove for my bushcraft hikes.
It is so light I take it while hiking in mountains !
In this case I use it with small twigs or with my trangia burner.
This XL is the perfect size to grill meat with coals.
I recommend to buy the universal grate with the stove.
From:
Uk jungles
On:
30 Apr 2018
Best wood stove
It's a amazing stove a bit pricey but worth it, excellent built quality, it definitely will stay to my sun after I will stop using it after years
Beautifully engineered and impressively functional
Oustanding product. The Titanium version is expensive, but I'm very happy with the build quality and design. Love the precision of the engineering--the hinges, the edges, the fit, all of it. Getting a fire going was quick and painless, and the XL is large enough to burn for a while without requiring constant feeding (depending on the wood you're burning). Another pleasant surprise was how quickly the box cooled after dumping out a few hot coals. (Honestly there wasn't much to dump out--the stove burns very thoroughly and leaves very little ash). Not sure if it's due to the Titanium or simply the design of the stove, but within probably 5-7 minutes, it was cool enough to fold up and pack in the Bushcraft Essentials case. Nice!
From:
Pestweazle
On:
11 Feb 2018
Grill plates warp and don't fit properly.
There are notches on the top of the stove for the grill plate and extended grill plate to rest in. Both grill plates have tabs that appear to be intended to slot under lugs at the sides of the notches. Firstly, when the stove is lit it is fiddly to get all 4 tabs into the notches. Secondly, if you do manage to get one set of tabs located in the notches and under the lugs the ones on the other side come out. Consequently one side of the grill plate is always loose. If you are turning a piece of meat that has stuck a bit it is quite easy to pull the grill off.
Also the first time I used the extended grill plate it warped so badly it made fitting the grill as described above impossible.
[Comment by Bushcraft Essentials: It is true that the grill plate (the one you call the extended grill plate, as opposed to the universal grate) will warp. The reason for this is that it extends due to its size over the edge of the stove which in turn results in a colder part - the perfect precondition for warping. Unfortunately this is a physical effect, there is no way to avoid it, except using the smaller Universal Grate.
Regarding the notches: It is by design that only one pair of the tabs will lock under the lugs - otherwise it might be tricky to remove the grill during operation. When turning the meat, just start at the side where the tabs are locked]
From:
Happy Camper
On:
1 Sep 2017
If you like a safe non open flame fire for cooking and entertainment this is it.
Excellent product. I have wanted one for a while and decided to get it for a upcoming trip. Without a doubt one of the best outdoor purchases I have made, especially for those cool dark evenings in the deep Maine woods. Invest the time learning ways to use and you will love it. It will have a permanent home in my pack.
From:
KAY
On:
10 Jul 2017
TACK
varmt rekommenderar---snabb leverans--TACK SÅ MYCKET
From:
Dell uk
On:
11 Jan 2017
Great product, a must have item.
Great product, not sure where people get the idea it is a heater, used properly it is a great little stove and will discolour as is expected with normal use, I find it easy to carry and it performs well as it should.

I would like to see a larger version for camping but the xl should suit most outdoor needs.
From:
Tail Chaser
On:
11 Jun 2016
Titanium XL
It is exactly what I needed for my hikes, in the rain or shine.
From:
CESAR
On:
9 May 2016
great quality, perfect size and weight
excellent product, easy to use, perfect weight and size, excellent design, or very good oxygen supply would have liked to come including universal grate, but I'm very happy with this stove
From:
Jon
On:
22 Dec 2015
Don't buy it.
Not worth it.
From:
haapakar
On:
9 Nov 2015
I`m sorry but i don`t speak english.
I`m sorry but i don`t speak english.
From:
Adam
On:
8 Jul 2015
Bushbox Titanium Comparison
I have this stove and the stainless steel Bushbox XL, the weight difference is noticeable when carrying around in your pack all day.

Performance wise they are very similar, both stoves can produce a staggering amount of heat if loaded up. Use less wood and the stoves can simmer food without burning it, it just takes a bit of practice to regulate the heat. I have boiled 1.6 litres of water in 3.5 minutes & cooked a meal for 4 people on these stoves.

The engineering of these stoves is brilliant, the guys at Bushcraft Essentials have paid attention to detail & it shows the stoves are incredibly versatile and the build quality is superb. It seems obvious that the stoves were designed by people that actually use them & know what the want out of a stove. There are options to use a trangia alcohol stove or even solid fuel tablets as an alternative to biofuel / wood.

If you cook with wood you will get soot on your pots, I use stainless steel pots & smear them with a little bit of washing up liquid before cooking with them, this makes the pots much easier to clean afterwards.

Both of these stoves consume a surprisingly small amount of fuel when cooking on them, the efficiency of the air holes ensures that all the fuel is consumed and all that is left at the end is ash.

Is it worth paying the extra for the titanium stove? In my opinion if you can afford this one then go for it, the weight saving is noticeable but they are both very good stoves. I keep the titanium stove for my backpack & the other for the car.
From:
YiLi
On:
11 Jun 2015
Great product with cosmetic flaws
I have to say that there are cosmetic flaws-so many scratches, for the unit I received. Obviously, scratches do not affect the function of the Bushbox XL Ti. But, for a product which costs me over $200.00 cdn, I deserves better.
From:
MasonLY
On:
9 Jun 2015
light portable backpacking stove
This stove weights only 535g with the case. The quality of titanium used in this product is premium. It is expensive but as a one time investment, it is a great deal.
From:
Bushcraft Essentials indeed.
On:
7 Dec 2014
An almost perfect tool for both cooking and warming, but needs improvements!
I am not a british guy (Norwegian) So i am not going to spend a thousand words on a single detail but rather be short and efficient.

The XL version is what i would consider a rather small tool, i'd dread to think how small the actually small version is and how much less use it would be due to the size factor. If you're a serious bushcrafter or love an outdoor adventure then this is for you.

Reasons:

1 Naturally, you make fireplaces under the advanced trips, yes? Whatever amount of woodstock you need to make your dinner; This one only need ONE single wood chopped into several small pieces for easy fire. This is EXTREMELY useful when you can't afford to take with you all too much firewood from your home. Bring one firewood with you to just put the flames to life and the local vegetation will suffice to keep the flames alive for the rest of your needs.

2 It takes incredibly little space! It comes as shown, wrapped together as a flat plate, it's about as flat and wide as a DVD box, i kid you not! Just slightly wider. Certainly proving itself an essential tool to bring with you for 'economic' fireworks.

3 The way it is design, it has a filter where all the wood burns quickly and falls through as puny ash, on the flat plate at the very bottom. There wind invites itself in and blows it out, cleaning the basement of the stove for you if there's gentle wind present. It otherwise allows you to collect ash in advance, ash that skilled bushcrafters use to clean their canteen sets and whatnot afterwards, cleaning them free from ash by ironically using ash mixed with water, it becomes a serum that effectively rubs off ash texture from your canteen so spend it wisely by saving the clean ash (if you can) in a small tin box or whatever else could contain ash without spilling inside your pack. Because this is a standing stove that could literally be standing on snow and still offer you a live fire, then you could also bring it with you inside your tent if truly need be (consider what you burn as it will soil the air with the smoke!) My point is, if you are an observant person, then this is a very safe (not entirely, but very) tool to bring with you into 'intimate' areas for camping. Such as under a protective tree, a little cave or a lavo (A lavo would be perfect as i have experienced a real open fire inside one, a warm, cozy night!)

These are the flaws:

1 If you overload it with fire or tinder, and by that i mean with wood that goes above its surface and does not match the size that keeps itself below its walls; Then chances are the stove will warp in the seemingly all too powerful heat. It is a tough stove but it does not appear it is built for powerful fire bigger than itself and will thus begin to bend and warp into a flawed ugliness which in worst case scenario can ruin the joints of the tool and become utterly broken as it needs to be reforged back into its good design. This is frustrating if you intend to use the stove also to keep warm at night, meaniing that you NEED to be dressed isolated and truly warmly to survive the cold while the stove will protect you in its aura of warmth. But if you overdo it, then the extra barbeque plate that follows the set will be bent, the bottom (the legs) will be bent and possibly the walls themselves, this 'needs' to be fixed in future designs if Bushcraft-Essentials are interested in remaining masters in outdoor stove designs. I paid for my XL stove and i don't consider it worth the full price because of this embarrasing flaw!

[comment by Bushcraft Essentials: overloading/overheating will damage the product - abusing a product does not mean it is flawed :-)]

2 It absorbs heat EXTREMELY well. This could be considered a good thing, and obviously a neccessary thing since the stove's purpose is to intensify and preserve wood and fire for as long as possible so obviouisly it needs to adapt to its content. Being what it is however, accidents WILL happen, and they will happen easily unless you make sure your stove are placed on somehow a table, perhaps a large stone working as a table for you (place it on stone would be the best option as its heated aura manipulates the living surroundings around it! Such as vegetation and elements alike.) now it is common sense that all stoves are not to be touched, they are like candle lights essentially but even they needs to be moved around when lighted now and then, luckily, these 'sticks' are included and can be used to move the stove but they ALSO get extremely hot fast, meaning that if they are attached to the stove too long (which is a very short time), even at the edge; Then the safety sticks will burn your hands and melt your perhaps EXPENSIVE outdoor gloves and ruin their waterproofness! My solution to this is to bring with you a single (or two if you feel you afford the pack space) WORKING glove! Gladly gloves you use in the garden to soil in the dirt, or those that construction workers use, these are fodder for damage and will go into the fire for you, saving you the expensive outdoor gloves for you for their safer purpose. Other than that, i hope Bushcraft-Essentials are planning on making a bigger version with a layer that better protects people from burning themselves on the exterior designs. (don't ask me what that would be, i'm the critic, not the creator!)

[comment by Bushcraft Essentials: cooking with fire produces heat, again this is not a flaw but a desired feature. Heat in turn requires careful operation - see operating and safety instruction in the XL manual]

3 VERY hard to clean! Being what it is, it's full of holes, more holes than swiss cheese and strong as steel. Wiping this stove clean from dirth and molten foreign material is very hard to do as you need to access sheltered areas of the stone both inside and outside. If you are like me that likes to take care of the tools that will in return take care of you; Then you will end up cleaning your stove, it cost a lot after all! You might want to be prepared to enlist a sharp object to the task of scraping the stove clean from molten contamination as well as ash if not scrubbed well.

[comment by Bushcraft Essentials: just put it in a dishwasher and it will be clean. But most of our clients do not clean the XL at all - if operated according to the instructions it will not develop soot and will stay relatively clean. The "holes" are all there for a purpose and are usually a design feature which gets a lot of praise]

All in all i am VERY pleased with this product as it makes my trips both easier and cheaper when it comes to cooking and warming, that is always a good thing, but considering what we are in truth capable of today as engineers and visionaries alike then i must say i am also a bit disappointed. I usually say that if a man is willing to go 'this' far in a project - then he should go AAAALL the way as well to reach maximum results. Such is the role of technology and this Bushcrafh Essential tool is 'not' the pinnacle of the outdoor stoves. Not as long as there are flaws with the strong sides.
From:
Runereaper
On:
5 Dec 2014
Superb design and manufacture. Real cooking power at a portable weight if you can afford it.
I've always felt that most of the portable stoves are not big enough to produce enough heat quickly, particularly in winter. The Bushbox XL and its rival, the Firebox, provide a solution for this problem but with a weight penalty which is unacceptable to many, including myself. By making the superbly designed XL in titanium, Bushcraft Essentials has overcome the weight problem by producing a "big" stove at around the 535g mark, including the necessary stowage bag. The 8-hinged design is, I believe, the ultimate possible and will be difficult to improve upon. It takes longer to lay the 2 trivets in place across the top than it does to open and prepare the box itself, this not an exaggeration. Excellent design and manufacture. It is difficult to say whether or not the titanium will warp when a very hot fire is built inside, as I have not yet had a really hot one. The only minor criticism with respect to the product quality is that the stowage of the 2 trivets is insecure and leaves room for improvement but since the BB XL comes in a well-made Cordura bag this is not much of an issue. The price is hmmmm - at the limit. If you want your food fast (as I do), you don't want to cart a couple of extra pounds around all day (as I don't) and you feel can afford it, then this is the solution.
Write an evaluation
Reviews will be activated after verification.