BLACK SALE

Bis / until 03.12.2023
€56.02 *
15
€65.90 *
(15% Saved)
Prices incl. VAT plus shipping costs
Ready to ship today,
Delivery times might vary depending on the destination country
Product overview
Highly efficient, compact folding stove
Ideal for cooking for 1-2 persons
The set includes: Bushbox LF, Trivets (Set)
approx. 475 g | 14 x 10 x 1.2 cm (folded), 14 x 10 x 10 cm (unfolded)
Material: 100 % stainless steel
Made in Germany
This is the perfect choice for all those who like some comfort and are frequently on the move...
more
Product information "Bushbox LF"
This is the perfect choice for all those who like some comfort and are frequently on the move alone or with a partner. Thanks to our sophisticated hinge technology, this highly efficient stove is ready for use in just a few steps. With the help of the included Trivets, you can conveniently prepare an invigorating coffee or a warming meal.
The "Bushbox LF" in detail
Bushbox LF
The Bushbox LF ("LF" stands for "Large, Foldable") combines the advantages of both our original Bushbox and the Bushbox XL in one stove: it is small and compact, foldable and every bit as efficient as the Bushbox XL.
Ideal for cooking and warming for 1-2 persons.
Featuring our unique hinge technology that ensures the hinges never stick, the Bushbox LF is easy to set up and fold, even with gloves or clammy hands.
With the Bushbox LF you are completely independent, as it can be used in many different ways and is suitable for natural solid fuels (twigs, branches, leaves, charcoal, animal dung) as well as for spirit burners (e.g. Trangia), Esbit tablets, gel cookers, etc.
With its small pack size (only approx. 1.2 cm thick when folded), the ingenious hobo stove can be stowed anywhere.
The Bushbox LF is well thought-out down to the smallest detail and offers you many possibilities for individual use. Read more here.
To use as little plastic as possible, your Bushbox LF comes in a lightweight cotton bag. For regular use, we recommend our Heavy Duty Outdoor Bag Bushbox LF or the matching Leather Pouch Bushbox LF.
Technical data
Weight: 475 g
Dimensions: 14 x 10 x 1.2 cm (folded), 14 x 10 x 10 cm (unfolded)
Material: 100 % stainless steel (1 mm, 1.4301)
Made in Germany
How our stoves work:
All our Bushboxes follow the stack effect (or chimney principle): The air flows into the stove from below, causes even damp material to burn and produces strong heat which – thanks to the clever design of the stove - is directed straight upwards and hardly radiates to the sides. Compared to a campfire, the Bushbox allows for a clean, compact and safe way of cooking, fully in line with the "Leave no Trace" principle.
Trivets (Set) Bushbox LF
On top of the Bushbox LF the included stainless steel Trivets ensure safe standing even for smaller cups and cooking vessels.
Various notches allow for the Trivets to be inserted in different positions as required and ensure sufficient air supply between flame and cookware.
Thanks to the Trivets, you can place an external heat source (e.g. Trangia) at any height in the Bushbox LF.
Alternatively, the Trivets can be used to handle the hot Bushbox. In combination with the separately available Universal Grate, they can also be used as a toast holder or to keep your coffee cup warm. Try it out!
Technical data
Weight: 33 g (Set)
Dimensions: 14 x 1.6 cm
Material: 100 % stainless steel
Made in Germany
OTHER PRODUCTS SHOWN ARE INTENDED FOR ILLUSTRATIVE PURPOSES ONLY AND ARE NOT PART OF THE OFFER.
Not sure which stove is right for you? Then take a look at our stove selection matrix: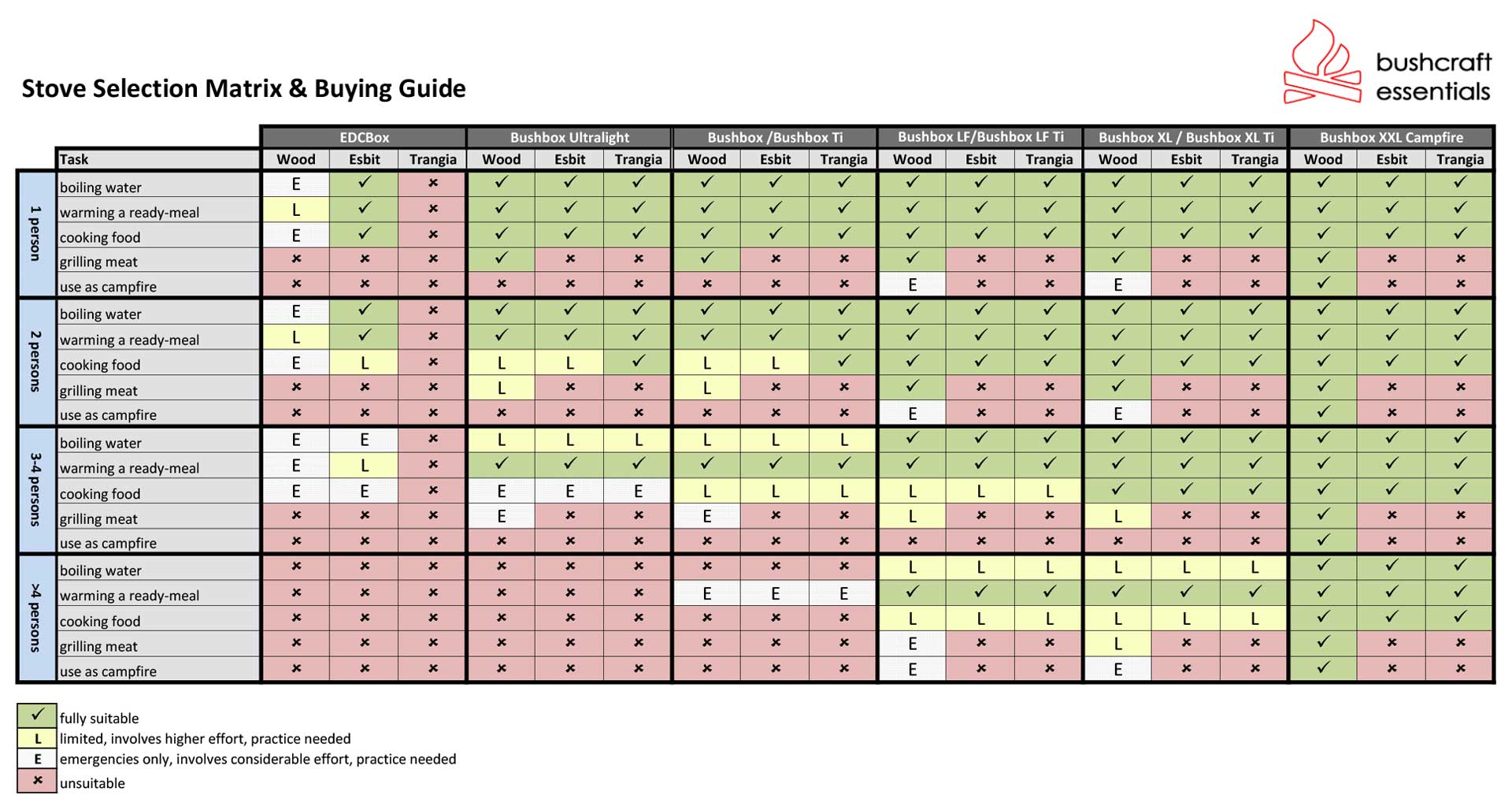 Bushbox LF Tips & Tricks:
Related links to "Bushbox LF"
Read, write and discuss reviews...
more
Customer review for "Bushbox LF"
From:
Alice H
On:
8 Jun 2022
Heavy but well made
A bit too heavy for backpacking (especially with added accessories) so the titanium version would be preferable, but very solid and dependable.
From:
Grzegorz Chowicki
On:
25 Nov 2018
Polecam wszystkim. Super piec, sprawny transport za granice.
Piec doskonały. Gotowy do pracy w krótkim czasie. Piec wykonany jest bardzo starannie, precyzyjnie. Wysyłka do Polski bardzo sprawna. Jestem bardzo zadowolony z pieca i z przesyłki. Zapraszam na film z tym wspaniałym piecem: https://youtu.be/p64bNVU4MlE
From:
Deeko
On:
14 May 2018
Two Thumbs Up
A work of art, quality material, precision in design, set up in seconds, easy to pack, very nice touch.
From:
T. Bennett
On:
9 Oct 2017
Superb kit .
Looked at all the different stoves on offer, when I saw the Bushbox videos on YouTube I was impressed. Ordering and shipping was spot on . Tried it for the first time this weekend, simple operation, quality materials, superb manufacturing. Brilliant piece of kit , highly recommend.
From:
Violent Assassin
On:
1 Sep 2017
Great!
I bought Bushbox LF after comparing some different ones on Internet an YT and i really enjoy the stove. The quality and functionality is really high standard.
From:
Jim from Falkirk
On:
16 Aug 2017
Best in its class
I bought this stove to replace a clip together one from another manufacturer and I am glad I did. The LF is extremely well made out of high grade stainless steel and opens up into the stove very easily. Everything fits perfectly including the trivets. When you use the stove do not overload it as you will get a better heat from a lighter load. I have now used the LF three times in a couple of weeks .... excellent
From:
wall
On:
13 Aug 2017
brilliant
I absolutely love it . well engineered and functions perfectly. now has a permanent place in my kit. I live in New Zealand and shipping was pretty bloody fast. great customer service as well. couldn't be more happy. will be purchasing a few more of your other stoves when I can .

cheers
From:
Alyeska Bushcraft
On:
26 Jul 2017
A Different, but innovative Stove
So far, I have really enjoyed this Bushbox. Here is my full thoughts https://www.youtube.com/watch?v=XKzliUMZ0_I
From:
kie
On:
25 Jul 2017
Quality..
Just like my bushbox and my bushbox XL,my bushbox LF is an amazing bit of kit, I love it..top marks from me
Brilliant piece of kit
This is a beautifully engineered, superbly thought-out piece of equipment. So easy to use and it burns such a hot concentrated heat that cooking times are minimal and much of the ash generated just evaporates. It is my go-to stove for cycling, wild camping or just boiling up a kettle for a cup of tea in the back garden. The hinged/folding design is excellent and i recommend the universal grate as an addition - great for cooking on and very handy for use with the Trangia burner. Well done!
From:
waltk
On:
3 May 2017
The Goldilocks of Stoves
Excellent stove and size. Can't wait till it comes in Titanium. large enough for larger and small pots. Easy to set up and take down. The important part of these stoves is the flat plate on the bottom that holds the smaller ashes and keeps them off the ground and reduces a chance of fire or destroying a table top or other surface. Most other stoves do not have this and for Leave No Trace, this is preferable. I would like to have a nylon pouch for storage as this did not come with anything and the pouch in the combo is too heavy duty for backpacking use.
From:
Lee
On:
22 Mar 2017
Bushbox LF
Light weight and performs just like the XL.......
From:
Alpine Exposure
On:
17 Mar 2017
Perfect size, Lightweight and Multi-Use
I have several folding wood stoves and this LF is by far the best size for one person. I still love my ultralight Titanium Firebox Nano, but it has it's limitations. This stove burns like a full size XL or Firebox Gen 2 without the weight and large package. I drilled 4 holes for a set of 3/32" Tungsten rods in order to mount the Trangia gas burner. Now it's a perfect set up. Wood, gas, alcohol burner, solid fuel or liquid fuel. Instead of using one of my multi-fuel stoves, I mounted a Kovea booster calm on a Trangia bracket for those cold winter excursions. Now I have multiple burning options in just the right size package. Love it! Now we just need it to come in Titanium. Cheers
From:
RGC
On:
13 Mar 2017
Perfect Size
Outstanding Quality and Design!
From:
Anthony
On:
5 Feb 2017
A great new addition to the range.
I was lucky enough to be one of the first to get one of these new stoves and I can honestly say the quality hasn't been compromised at all. This is a fantastic addition to the range and I can see this becoming a firm favourite - it is fantastic.
Write an evaluation
Reviews will be activated after verification.